By Pengpeng (鹏鹏) from The Drifters (浪人乐队), translated by Guiling (归零). Original Chinese reposted below (can also be found on Pengpeng's QQ space). Also see "The Alternative Education of a Chinese Punk" by Tang Shui'en, and "An Interview with Wu Wei" by Shayan Momin, both also dealing with Wuhan and its anarchistic punk subculture.
—–
Well, first let me explain what I know about the streets of the city I live in. First, the people are diverse. They come from every corner of China, so they walk and talk in countless different ways. Second, the traffic is insane. Mopeds charge the wrong way across the streets, Ferraris and Porsches are drift and run red lights, and no telling how many people drive motorcycles without a license. Third, with China's internationalized development, "greening" projects have become [characterized by] lake-filling privatization [填湖私有化].1 That makes me feel that the streets no longer belong to the natural world, that they've become an object of profiteering by government officials.
Let's just talk about what's close by. Optics Valley Plaza is truly a cosmopolitan plaza. Capital Tower, the library, "Spanish Style Steet," the jungle of towering high-rises and skyscrapers: it's an architectural battle array [阵容] of luxury, so no wonder the shitty clothes in those malls are all so expensive. Traffic cops, Chengguan2 and security guards stand in lines on both sides of the street, but so what? Powerful people can still do whatever they want. For example, street vendors from Xinjiang can sell drinks and roast mutton, but college students aren't allowed to set up stalls to sell socks.3 Formerly public land is enclosed and turned into parking lots. What kind of people can enclose land so easily? Of course it's the rich and powerful.
For example criminal organizations [黑社会], because you can find hoodlums [打牛的] anywhere, but what I'm talking about isn't the image of violent turf wars that you see in Hong Kong movies, but a few local powerful groups that have arrangements with certain branches of the government. The government will delegate the administration of certain parts of the city to capable private institutions. As far as I know (demolition companies, security guard training schools, debt collection agencies, driving schools, big-name restaurants and nightclub)4 … My conclusion is: "our government is corrupt."
I remember the year before last, my motorcycle bumped into the trunk of a car around Optics Valley roundabout. Instead of apologizing, I flew into a rage and cursed the driver for slamming on the brakes. I jumped onto the roof of the car and stomped on the sunroof until it was smashed. As a result, I was arrested. After 15 days' detention, I was released back onto the streets. The first thing I did was go to the traffic police station in order to get my motorcycle back. But no one paid me any attention. I went to all of the dozens of offices in their two buildings, but they all dismissed me, saying "I'm not in charge of that." I went back to the front gate and yelled: "So what if I [老子] drove without a license or license plate? Where the fuck is my motorcycle?!" Not only did I curse him, I even spit in his face – I was that angry.  Maybe he was afraid and wanted to call for reinforcement, but he turned around repeated my demand into his walkie-talkie, while I continued yelling. Before long, a neatly-dressed women stepped out of the building – I assumed she was an administrator, but she said worked for a property management [物业] company that helped manage parking lots owned by the traffic police. I kept yelling until my throat ached, and then a handsome guy in plain clothes walked up and handed me a bottle of iced tea. I accepted it gratefully, assuming he was a good guy,  until I realized that he was a middleman: if I paid him, he had the connections to get my motorcycle back. I said "forget about it."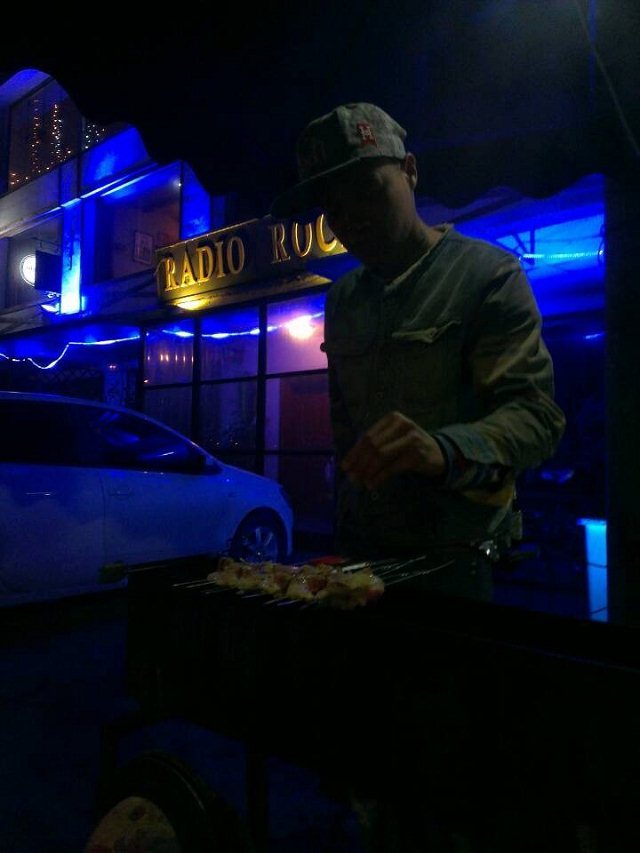 Last June, a friend and I started selling barbecue on the East Lake walking street. The first day we made 800 yuan, and I suddenly felt that my life was getting better. But such good things are always short-lived: within a month, the Chengguan confiscated our grill. This time my anger exploded even more fiercely than before: my first reaction was to smash the Chengguan's van. Another 15 days in the detention center.
That's my way (with some costs) of letting the Wuhan government know that this society is giving rise to a bunch of angry young people. I didn't do anything wrong, I'm not afraid of you; if you fuck with me I'll fight back, because I'm not Jesus nailed to a cross. Although they threw me in jail, I brag about it to show that the Communist Party also consists  of people, and they lie. Those who understand will stand up against them – not to destroy them, but just to achieve our right to freedom and equality.
Actually I don't want to talk shit about anyone. This is just the anger generated by the reality of my situation.
In the detention center there was a man about 50 years old who entered our cell in the middle of the night, the slamming of the steel gate startling me from my dreams. Coming to my senses, what I saw was a bald middle-aged man with a blank expression. At the time was assigned the role of "supervisor" (班长) for our cell, so I indicated that he should sleep on the ninth cot behind mine, and went back to sleep.
The standard rule jail is that the new inmates should be oppressed [压迫], and this gives rise to prison gang-bosses [牢头狱霸]. With social development and the strengthening of the legal system, prisons have become much "better" [强] than in the old society, but, as the saying goes, "without rules there can be no structure" [没有规矩不成方圆]. Although today's prisons have little beating or cursing, making China a strong humanitarian state based on the rule of law, some "civilized" prisons and detention centers still resemble the one I experienced.
The new guys are usually put on clean-up duty, and they have trouble getting on good terms with the established inmates. Because class struggle [阶级斗争] is everywhere, people always try to build up their crew and bully the weak. No lamp hesitates to burn its fuel [i.e. no one is altruistic – 没有一个省油的灯]: we established inmates won't lightly accept friendship with the newcomers – the bottom line is that the get the cleaning done. We are just puppets of the wardens [干部].  So the CCP's control is exercised not only through direct supervision, but also through developing an "elite" in the cells to manipulate the other inmates.
Like all newcomers, this middle-aged man poured out his heart to the one or two people next to his cot. People always play different roles in their lives, the only difference is how good one plays that role. When I found out why he had been imprisoned, I burst out laughing. But now that I'm telling his story, I want to restore the tragedy of his plight.
He was from Tianmen. One day he happened to find an ID card on the street and used it to register to use the internet at a cyber café. Not long after he got online, some cops appeared and took him away. Why? Because the ID he picked up belonged to a wanted criminal. Once he registered at the front desk, the online system automatically notified the police. There are all kinds of fish in the sea, and I didn't pay much attention to the specific crime he was charged with. In jail I encountered even more tragic and ridiculous cases than his. These are the unpredictable risks of a precarious existence [江湖].
The Buddha said, "A butcher becomes a Buddha the moment he sets down his cleaver." But that must be a company listed on the stock exchange. China's ruler is still the might Communist Party!
'Stand at attention!'
'Good morning, teacher!'
Every day when the teacher enters the classroom, the [student] monitor shouts these slogans.
'Stand up!'
'Lean against the wall!'
'Number off!'
1,2,3,4,5,6…7…8
'Sir! There are eight people in Cell Number One, we are preparing to study, please check!'
In a dark prison cell, I was elected as monitor. The cell was different from classrooms in my childhood, at least on the surface: the former innocent, the latter somehow evil.
When he was released, the old monitor gave me his special vest with pockets. He went somewhere far away, leaving to me the great responsibility of being a little leader. I told everyone that I had always been a lazy bum, so I wan't willing to be your "public servant." Those prisoners without pockets on their vests ingratiatingly said they would support me, so, like a duck a spit [赶鸭子上架的样子?], I muddled through two days as a monitor.
The hardest job in the world is to control another person. Though people are supposed to do their duties, during my stint as monitor, I just slept all day. Predictably, the other prisoners stopped obeying me. They broke the jail's sleeping regulation by staying up all night and also sleeping all day. They showed me no respect and treated me like I was invisible. Things started getting out of control, so finally I exploded:
"I respect you guys, but you don't respect me. Now things are getting ugly. If you keep dissing me, I'll have to tell the warden, and he'll take away your cigarettes." Everyone smoked, so that really scared them, and finally they became obedient and stopped causing problems.
It felt good to be a leader, since everyone was kissing my ass, but I also learned that leaders are susceptible to slander. So my incarceration was a kind of growing experience.
I can't bear this mechanistic [机制] society anymore. Everything is manipulation.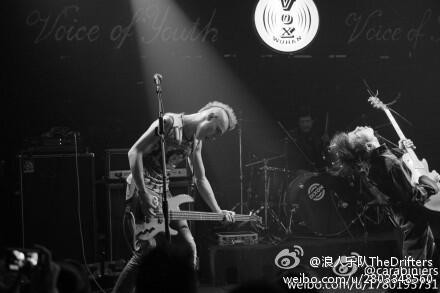 ---
Original Chinese:
首先我先说明一下我对自己所生活城市街头的认识:
第一,有不同的人群,既然来自天南地北,各自走路的姿态也是截然不同,表情更是丰富多彩。
第二,交通次序一片混乱,有骑电瓶车横穿马路的,有开法拉利、保时捷玩漂移闯红灯的,无驾照骑摩托车的那就更是数不胜数了。
第三,中国面向国际化发展的同时,绿化建设却变成了如今的填湖私有化,让我感觉如今的街头不在属于自然界的了,反倒成了政府官员谋取暴利的重要构成部分。
为什么这么说呢?
远了不提,光谷广场,的的却却是个世界城广场。资本大厦、图书馆、西班牙风情街、一栋栋耸立的高层,建筑阵容堪得上是奢华,所以那些卖场的垃圾衣服也都买的很贵。马路两旁交警城管保安站成一排,但又能怎样?有权有势的人照样该干嘛干嘛!比如说新疆人在光谷可以买水卖肉,单单一个大学生就不能买袜子摆地摊。原先的公有土地被圈成停车场,那么又是什么样的人可以随意的圈地呢?还是有钱有势的人。
比如说黑社会,因为打牛的到处都是,但我所说的黑社会可不是香港电影中所描素那种为了地盘砍人的景象,而是一些当地有势力的群体与政府部门达成的某种协议。政府部门会将一些区域指派给一些有能力的私有单位管理。我现在所了解的也只有(拆迁公司、保安学校、讨债公司、驾校、大牌餐饮娱乐场所)
细节上说:"我们现在的这个政府是腐败的"
记得前年因为骑摩托车在光谷转盘追了汽车的尾,我反倒大怒,指责开车的人为什么要刹车,大怒之下紧接着跳上车将他车顶的天窗踩的稀烂,结果被捉去坐牢(15天)后我被释放了,又回到了自认为自由的街道,跑回交警大队要我的摩托车,没人理会我,我一间办公室一间办公室的被打发掉了,回答我的都是,不归我们管,两栋大楼,几十个办公室我跑遍了,又回到了门岗,我破口大骂的告诉他,老子就是无照驾驶,没有车牌,也得知道我的车现在停在哪的吧?从此我就像个泼妇一样,站在大街对着警察不仅仅是大骂,而切还对着他们的脸吐过口水,因为我真的怒了。也许他怕了,需要寻求帮助,转身走过一边用对讲机重复了一遍我的要求,我还是在大骂。不一会,从大楼里走出来一位着装整齐的女性,我以为她是公务员,她告诉我她是物业上的,交警大队所拥有的停车场归一个物业公司在打理,但我还是不肯走,骂的口干舌燥的时候来了一位身穿便装的帅哥走到我面前递给我了一大瓶冰红茶,我感动的接受了,以为他是一位好心人,结果感动了半天才知道,他是中间人,我给他钱,他有渠道将车拿出来。我回答他,车我不要了。
还记得去年的6月,和一哥们在东湖步行街边合作烧烤生意,第一天摆摊营业额800,忽然觉得生活变得很美好,但好景不长,不到一个月城管没经过我的同意,收走了我的炉子,这一次的怒火比上一次更加上头的猛烈了,我的第一行为就是砸了他们的一辆城管执法车,又被捉去坐牢(15)天。
这就是我以我的方式和付出,让武汉政府看到、知道这个社会出现愤怒的青年了,我没做错什么,不怕你,你欺负我我就一定要打你,因为我不是被顶在十字架上的耶稣。尽管我进了牢房,还拿出来炫耀,就是想告诉大家,共产党也是人,也会撒谎,明白了就一定要站出来指责他,目的不是让他们灭亡,为我们自己争取自由平等的权利。
其实没想指责谁!只是曾经真实的场景中留给我这些愤怒的感受。
在拘留所关押的日子中有一天来了位50岁的中年人,半夜进来的,铁门声将我在梦中惊醒,当时我在监室的身份是班长,被惊醒后我看到一脸茫然的神情有些秃顶的中年人,于是用了很幽默的方式示意他睡在最后面第九个铺位,于是我便又进入了昏睡状态。
一般牢里面的规矩是新来的人最开始是要受到压迫的,从而产生了牢头狱霸。随着社会的的发展,法律的健全,如今的牢房比起旧社会强了多少倍。但文明归文明,俗话说:"没有规矩不成方圆"如今的牢房虽然不打人,骂人,使中国尽早的走入法制、人权主义强国,但一些经过文明演变之后的牢房就是我说的这样。
新来的人都会做一些卫生,与之前来的几个老人是交往不上的,因为阶级斗争在哪里都是存在的,拉帮结伙、砌墙凌弱,没有一个省油的灯,我们几个老人也不会轻易的于新人套近乎,他们能把安排好的卫生做好就行了,我只是干部的替代品,所以共产党所掌控的并不只是单一的监控,还要在监室中挖掘一些精英替他们监督。
他会找身边的一两个人说话,每一个新人都会找到那么一两个倾诉对象,因为角色的分布无论在哪里也是存在的,就看你是几流演员
当我知道那个秃顶的中年人为何被监禁在牢房的时候,哈!哈!哈!!!的放生大笑 。
下面我将叙述他的犯案被捕的经过,还原悲剧的原景
这个秃顶的中年人来自天门,无意中捡了一张身份中,就拿去网吧上网,结果网没上一会就在网吧里被几个公安莫名其妙的捉走了。说来他也真够倒霉的,为什么呢?因为他剪得那张身份证的本人是个全国通缉犯,身份证经过网吧收银刷一下不良记录就会自动传到公安系统,何况是个全国通缉犯,这种倒霉的事都能让人遇见,真是应了林子大了什么样的鸟都有给他定了一个什么样的罪名我也没太关注, 但我在牢房中遇到很多比这更悲剧更离谱的案件,贼喊捉贼的人大有人在,所谓江湖险恶,人心叵测。
佛说:"放下屠刀,立地成佛"然而它必定是个上市公司
统治中国的还是伟大的共产党!
起立!
老师好!
每天上课时老师走进教室,班长总会先喊口号!
起立!
靠墙!
报数!
1·2·3·4·5·6··7··8
报告干部,第一拘室现有8人,正在组织学习,请检查。
在一间阴暗的牢房之中,我被挑选为班长,与儿时的课堂完全不一样的地方,差距好像很大,一个单纯、一个听起来有些邪恶。
老班长把有口袋的马甲穿在了我的身上,获得了自由,释放之后远离了那个地方,小领导的重任就压在了我一人身上。我对大家说自己从小就不愿多抄一份心,所以我并不愿成为你们的公仆,那些穿着没有口袋的牢犯 相互讨好地说我们大家都支持你,于是我就赶鸭子上架的样子混混噩噩的做了两天班长。
在其位谋其政,头两天我每天睡大觉 ,人管人最难管,何况我每天睡大觉。渐渐地,他们皮了,晚上开始不睡觉,早晨不起床,完全当我是个摆设,于是一早我便发起火来,把他们都吓到了。
我是这样说的
人要相互尊重,我尊重你们,你们却不尊重我,越来越不像话,要是这样继续没有规矩的话我就报告管教干部你们不听我的话,不给你们烟抽(表现的不好,就没有烟抽)他们每个人都想抽烟,所以就这一点,他们就乖乖听话了,让我顺利的渡过了狱圆班长15日游。
领导的感觉真好, 有人奉承,可以随意诋毁。
但毕竟还是监狱,也被列入我的成长经历。
我早就受不了这个机制的社会,什么都是操控。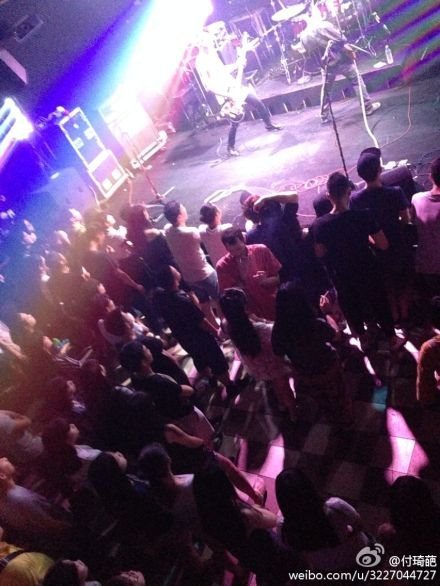 ---
Translators' notes: